Astley's Astounding Adventures, a new play by Frazer Flintham about the life of Philip Astley, founder of the modern circus, is opening tonight at the Newcastle-under-Lyme New Vic theatre. It's sure to be an extraordinary piece of theatre, combining text and circus art in Europe's first purpose-built theatre in the round, and also celebrating Astley's achievement in creating circus, 250 years on, in the town where he was born. In advance of the show opening, I caught up with Theresa Heskins, co-director on the show and artistic director of the New Vic.
I'm coming to Theresa over the phone, curled up by the window of my office and surrounded by glasses of iced water. How are they finding the tech week?
"We're in a beautifully air-conditioned auditorium all week in tech at the moment, so it's all dark apart from stage lights. We keep getting blinded by sunlight when we go outside! At the moment we're feeling quite fresh, we haven't yet hit the stage of the week when you reach for chips instead of salad, but I'm sure we'll hit that later on."
The show itself is a celebration of circus as an art form, the 250th anniversary of its creation, and of Philip Astley, whom Theresa and her team were surprised to learn was a Newcastle local. "When we realised, we just had to do something. How could we not have known that the person who invented modern circus was from our town? So we thought that we had to let local people know, and let people know both nationally and internationally, that our town should be put on the map for this reason. We really wanted to shine a light on that, on both Newcastle and Philip Astley."
Circus seems to be becoming a more and more popular artform, and the New Vic has regularly encouraged and celebrated it – they're currently heading a festival celebrating the past, present, and future of the form, alongside, amongst others, Circolombia, the Roundhouse's Circusfest, and the Victoria and Albert Museum. Why does Theresa think it is such a popular artform?
"It traverses all those boundaries of language and age – and it's traversed the centuries as well. It's survived for so long. And it is a great populist art form that brings people together. It can also be quite intellectual, it's got a lot of flexibility to it, and I think that's one of the reasons it's having such a big renaissance to it at the moment because you can do so much with it."
How has the process of making the show been?
"It's quite a challenge because the process is so different to a play. It involves so much choreography that the music has to be created alongside it. Even things like the creation space are tricky – you need a certain height, and it needs to be riggable, and those places are hard to get. We looked all over the country at where we would be able to rehearse, and eventually, we settled with rehearsing in the auditorium at the New Vic, using it in the daytimes between shows. I think that's one of the challenges nationwide in creating this kind of work, is that the spaces are few and far between."
It's taken a lot longer than a play alone might've as well – the four actors started with week-long bootcamp learning basic circus skills, and the following rehearsal process was six weeks, which Theresa tells me is the first time in her career with so long in the rehearsal room. "You have to pace yourself differently – stamina levels are completely different. But then even though we've had so much time, it has still felt like we're really packing everything in!"
"Quite a lot is worked out in the room because it's so particular about the physics of what a piece of equipment can do in acertain space with a certain draught from the grid to the floor. And it's also particularly determined by what a certain artist can do, or learn or take on. Things like peoples' physicality matching – is there a big disparity in weight? Loads of things that you just have to work out as you make them."
Theresa is clearly now pretty clued up on how circus is made and has seen a lot during her time as the New Vic's Artistic Director and before. I wondered if she'd ever previously been involved in making circus art, or wished that she had.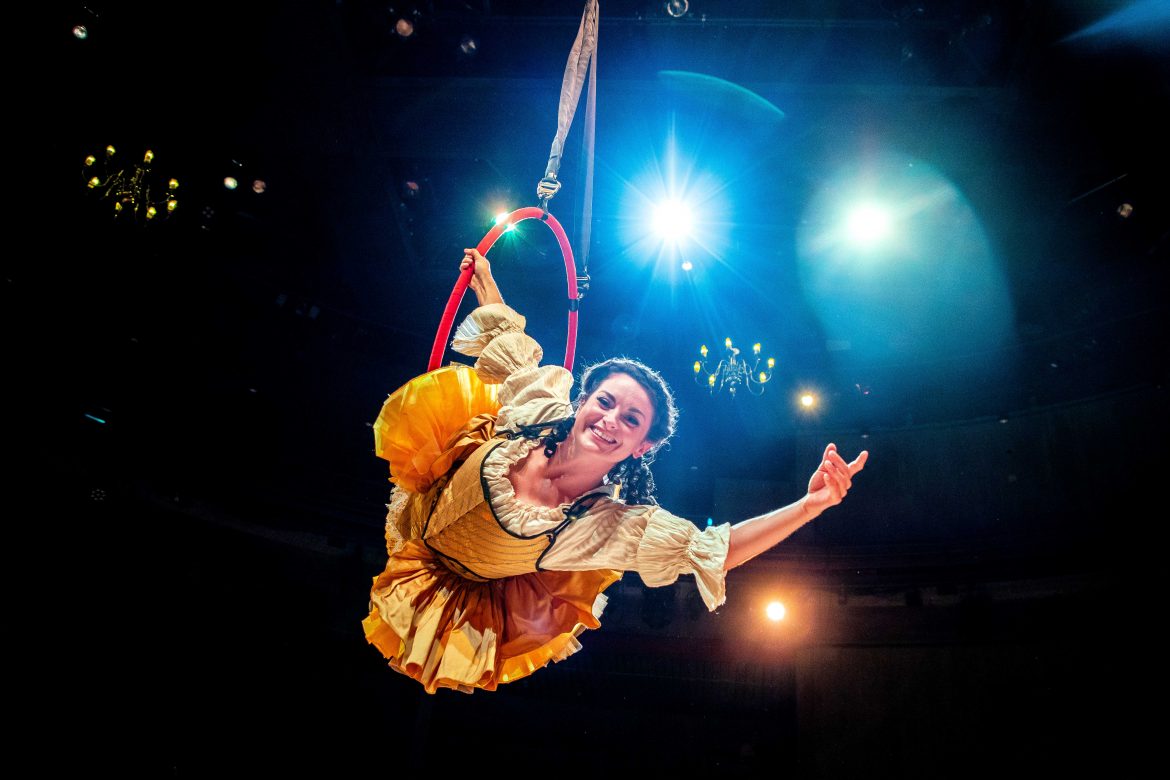 "I've done quite a few shows that have involved elements of circus, with Vicki Amedume [co-director of the piece] – two and a half years ago we did a production of Dracula where all the vampires were aerialists, and we've done a couple of other shows that have had elements of circus, but this is the first one we've done with an equal balance between theatre and circus. In fact, I can't think of another show I've ever seen where the balance has been equal between theatre and circus."
With only a few days to go before opening night, what's she most excited for?
"I'm most looking forward to the audience seeing it, although I'm also terrified! I'm hoping we get a lot of local people in, because I really want them to hear about and value this art form as something that's close to them and special to this area."
"Language can be a barrier to audiences, and that's one of the wonderful things that circus and physical theatre can overcome. We've got four clowns as part of it as well who are another great example of that, and they're really integral to the story. I also love making shows that are available to an audience of any age. It's not aimed at families and young people, but it's really suitable for them to come to – so we're hoping it can be a celebration for local families and young people in particular."
Astley's Amazing Adventures is on at the New Vic theatre, Newcastle-under-Lyme, from 7th – 28th July. There is a relaxed performance on Thursday 26th, and an audio-described performance on Saturday 28th. Tickets start at £14.50, with a range of deals available for families and under-26s, all of which are available here.
Author: Charlotte Vickers