If you're unfamiliar with the story, William Beech is a quiet and reserved schoolboy evacuated from London to the British countryside on the run up to WW2. He's paired with Tom Oakley, an elderly resident who at first seems stubbornly reluctant at being thrust into the role of guardian.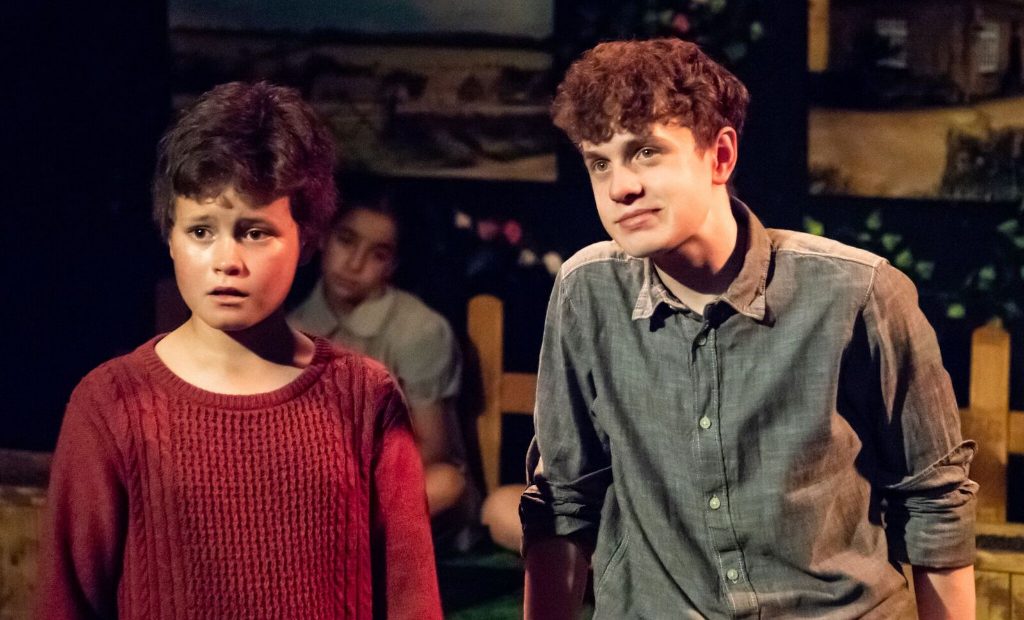 As you might expect, what at first starts as a strained relationship, blossoms into a heartwarming father-son dynamic, until William is called back to London by his abusive mother.
This is an excellent stage adaption of Michelle Magorian's original story, the work of acclaimed 'National Children's Dramatist' David Wood. While the piece tackles some dark issues, a young cast is arguably the perfect set of performers to portray a story about the terror of war seen through the eyes of children.
The stand out performance of the night came from James Sampson as Mister Tom himself. With a commanding West Country accent, he portrays the character's transformation from standoffish recluse to empathetic father figure with real warmth, slowly bringing out Tom's softer side as the story develops.
The rainbow-coloured Zach (Felix Hepburn) is also a highlight, his flamboyant speech and charmingly archaic phrases bringing out lots of laughs from the audience. His extravagant portrayal of Toad in the amateur dramatic society's production of The Wind in the Willows is genuinely hysterical and brings welcome light-hearted relief to a story which is naturally quite downbeat at times.
Of course, credit must also be given to Evan Huntley-Robertson's portrayal of William. A complex character who faces major trauma and grief throughout the play, William's personality is one of the most nuanced and this performance does excellent justice to that.
While the play gets off to a slow start – there are a few empty silences in the opening scenes which could do with being filled – it builds up to a fantastic second half which packs a real punch. In the dramatic final scenes, a quick glance down the rows of the audience revealed many fiercely wiping away tears.
Under Jo Kirkland's direction, this young cast delivers a series of confident and compelling performances that live up to the story's beloved reputation. The British Theatre Academy has created a sensitive and uplifting piece, but tissues are recommended.  
Goodnight Mister Tom is on at the Southwark Playhouse until 25th August. Tickets are £20.00 (£16.00 concessions) and available here.
Author: Jessica Murray