Engaging, incredible movement and I felt as if I had learnt something very important.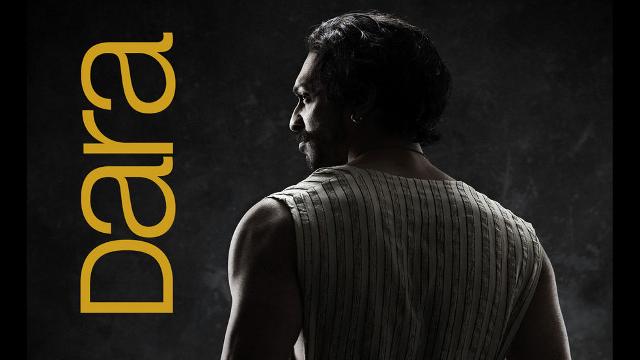 Tanya Ronder's adapts Shahid Nadeem's Dara, bringing a relatively unknown text to western audiences that we all need to see. Spanning the entirety of two prince's lives, the story of their progression to the Muslim empire is told before us. Using multi-linear narratives and a consistently adapting set design, this production wants to place you inside the brother's kingdoms and take you along for the entire ride.
During the first half of the show I was waiting for the moment – you know that moment when the back story makes sense and the message is suddenly so present, so obvious. Well I certainly got that, loud and clear. This play is about much more than its narrative predicts. The intense and relevant debates surrounding religion and the acceptance of others are directly from your main man – Dara. In simple terms he is the 'people's prince', one that welcomes and does not judge, although unfortunately for him he lives in a world full of exactly that, judgment. His most articulate points are to be made in the courtroom, at his trial where he is prosecuted for the sacrilege of his Islamic beliefs. Through rigorous cross-examination the lines become blurred between right and wrong, belief and blind acceptance of the religion their empire stands on. The most significant debate to Dara and one still argued in our modern world today, if you retain your penultimate gospel, then is it wrong to convert and smite others that do not? I think this production stayed relatively closer to the story, allowing you to interpret that question and Dara's answers for yourself. Although in many ways giving this argument a voice and a stage – well that's a point in itself.
The set design, by Katrina Lindsay, was a stunning combination of texture and multi-purposes structures, to truly evoke the inner rooms of the Indian Monarchy. The switching of narrative was demonstrated through a simple projection, usually stating the year and location, which I felt unsure about – could they have done something more interesting here? The projection disregarded the efforts of beautiful design which had carried me all the way to 17th century India, then plopped me back into my sixth form drama building.
Each performance was strong, and had to be with the vast and open staging. Dara, played by Zubin Varla, had rich, deep tones and a passionate persuasion, which eloquently demonstrated his humanitarian spirit which I believed. The imperial eunuch – Itbar, played by Chook Sibtain was an interesting casting as he towers above his shorter, although more powerful masters. Itbar's story is not lost though and I think important, although seemingly misplaced, for the overarching re-telling of an empire's corrupted history.
Dara is engaging and educational – but not in the lecture sense, unless you like lectures of course. The creativity of non linear story telling and powerful performances created a memorable production.
Dara continues at the National Theatre until 4th April
Cast includes:
Esh Alladi – Murad's aide / Governor Khan / Prison gaurd
Nathalie Armin –  Jahanara
Rudi Dharmalingam – Murad / Danishmand
Emilio Doorgasingh – Malik Jiwan / Qazi Sayed / Executioner
Vincent Ebrahim – Emile Ebrahim Emperor Shah Jahan
Mariam Haque – Young Jahanara
Indira Joshi – Imperial slave / Old woman / Itbar's mother
Chook Sibtain – Itbar
Creative team:
Writer – Shahid Nadeem
Adaptor – Tanya Ronder
Director – Nadia Fall
Designer – Katrina Lindsay
Lighting Designer – Neil Austin
Music – Niraj Chag
Movement Director – Liam Steel
Sound Designer – Carolyn Downing
Fight Director – Kate Waters
Author: Hannah Turk
Hello I'm Hannah, I am an aspiring producer looking to collaborate on productions in London and South East England. @hannerturk Reviews My Thoughts On....various plays from past and present that I have seen. I am no real critic, but I love theatre and believe collaborations thrive with a little constructive criticism...right?