This mystery play was simply fun – both witty and hugely entertaining. The company, Degrees of Error, have focused on producing improvised dramatic and comedic work and have clearly honed their skills at the Bristol Improv Theatre. Their improvisation truly ran amok with invention and broad based humour.
Playing to a packed house of all ages at the Pleasance Courtyard, the play kicks off to a glorious start with a character studiously lingering around downstage while the audience gets settled. Suddenly she lifts her head from her newspaper to introduce herself as Agatha Crispy, the resident sleuth, explaining with some tongue in cheek seriousness that any detective work, naturally, requires support. Stalking in front of the audience she whirls her deer-stalker into the air, allowing it to randomly land on some unsuspecting accomplice – Jerkins in row four, rather bemused but nonetheless very up for involvement.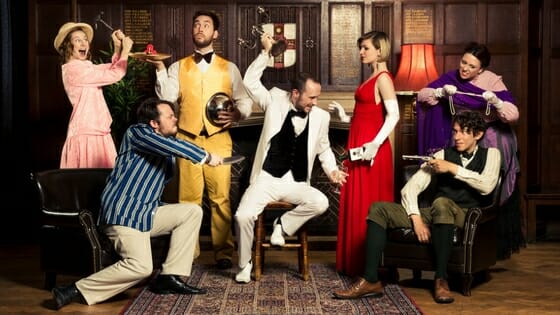 Jerkins, based on some flimsy evidence, suggests a location and even a murder weapon and the cast gamely set about solving the most horrendous crime – a quiet day in Newquay, a stag night, a death on a cliff top, oh , and a five legged sheep!
Of course, the company approached the task with relish and skill. A bar with very few drinks, and almost-a-bottle of gin was played for all it's worth, helping to create funny catchphrases. They sidetracked the audience with shady innkeepers with dodgy accents, posh gals and oafish guests, continually shuffling the furniture and props to suit the action. The pace doesn't flounder and if there is a point where an idea has been drilled and explored to the point of repetition our favourite sleuth, Crispy intervenes and redirects the action to push the narrative along. Hugely clear and delightfully energized, Crispy shares much of her confusion with the audience and obviously making good use of her faithful sidekick, Jerkins, who had to take much of the blame for any bizarre antics.
Characters adopt limps, funny walks or accents at the drop of hat in an effort to hang on to the dramatic narrative at all costs and of course this is what so delighted the audience. The company sweating to explain, motive, intention and execution, as our sleuth would say, was all utterly amazing. We loved watching them struggle to accommodate the whims of the audience (especially the five-legged sheep) – which, of course, they managed to do, much to the groaning and baying delight of the spectators.
The Degrees of Error have clearly found a style and level of performance that amuses and entertains audiences while at the same time including them in the action and outcome. The improv elements applied to a particular genre, carried off with commitment and style are delightful – it is a great recipe for success, especially as the players handle the scenario with such enthusiasm and vigor. No doubt this performance will have an on-going life, but it would not surprise me if it was soon to be seen in London's West End. If there is some canny producer out there looking for hit – look no further.
Author: Paul Hegarty
Paul is a reviewer and an experienced actor who has performed extensively in the West End (Olivier nominated) and has worked in TV, radio and a range of provincial theatres. He is also a speech, drama and communications examiner for Trinity College London, having directed productions for both students and professionals and if not busy with all that he is then a teacher of English.